Returns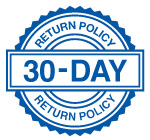 So, you didn't love it? No worries. We understand that not everything is always a good fit, that's why we offer an easy 30 day return policy on purchases and will refund your product total. All you need to do is ship it back to us. Please note the following details about returns:
•An order cannot be cancelled once it has shipped. If you decide to cancel after shipment, our return policy applies.
•Returns must be in new condition and in the original packaging.
•Please do not use, assemble or modify a product before returning it or else we cannot refund your purchase.
•If you received a damaged or defective item please email us at service@pacificpetsupplies.com.au and do not return the merchandise.
•In the event an item becomes defective after our 30 day return policy, please contact us or refer to the manufacturer warranty policy for proper handling.
•If you are looking to exchange an item simply submit a return and place a new order online. All items must be invoiced for manufacturer warranty purposes.